How to use Akçalı Spray?
Release the security trigger on cover, shake it well (for at least by 1-2 minutes after you heard the agitator ball has started to rattle inside)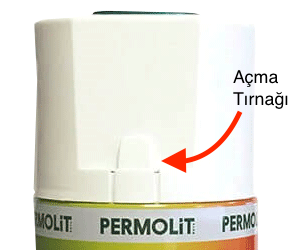 Ensure application surface to be painted is clean, and fully freed from grease, dust, loose particles / paint layer, rust and humidity. Push in short blasts to apply with constant finger pressure on its dispersion valve from 25-30 cm distance from surface and apply it with an even dispersion rate in double cross consecutive light coats (shake occasionally during the use and allow 3-5 minutes between twocoats).
When the application is finished, if still remainder paint in the bottle, return the bottle upside down and press on its dispersion valve until it loosens in order to be able to re-use it at another time.
Akçalı Spray Characteristics
Akçalı Spray is a ready to use aerosol, for protective and decorative purposes, based on alkyd, acrylic or synthetic resins (depending on the kind of chosen assortment), formulated with special pigments, solvents and special volatile gases, conforming to the characteristics of the chosen assortment.
It is ecological as it does not contain lead and Fckw, it does not harm ozone layer. It has a high coating and covering power. It forms an elastic protective decorative film coat with a remarkable strength against mechanical abrasions and chocks. It dries quickly, and it is colorfast with permanent glossy character. It has a very high adherence on the surface (necessary to pre-treat some surface by special primers wherever requested) and it does not crack by time.